HUNDIGE-KILDEBRONDE GIRL CHOIR
- Girlchoir of Hundige-Kildebronde Parish -
Tradition
In 1970 the girls choir of Kildebronde Church was founded, with the assignment to sing at the services in the old medieval church. The Parish now holds about 18,000 inhabitants and now two churches - Kildebronde and Hundige - and is one of the largest in Denmark, situated at Koege Bay on the eastern coast of Zealand. At the inauguration of Hundige Church in 1976, the choir was named Kildebronde Girl Choir from the name of the parish. In December 2014, however, after more than 400 years, the name of the parish was changed to Hundige-Kildebronde, and the choir is now called Hundige-Kildebronde Girl Choir.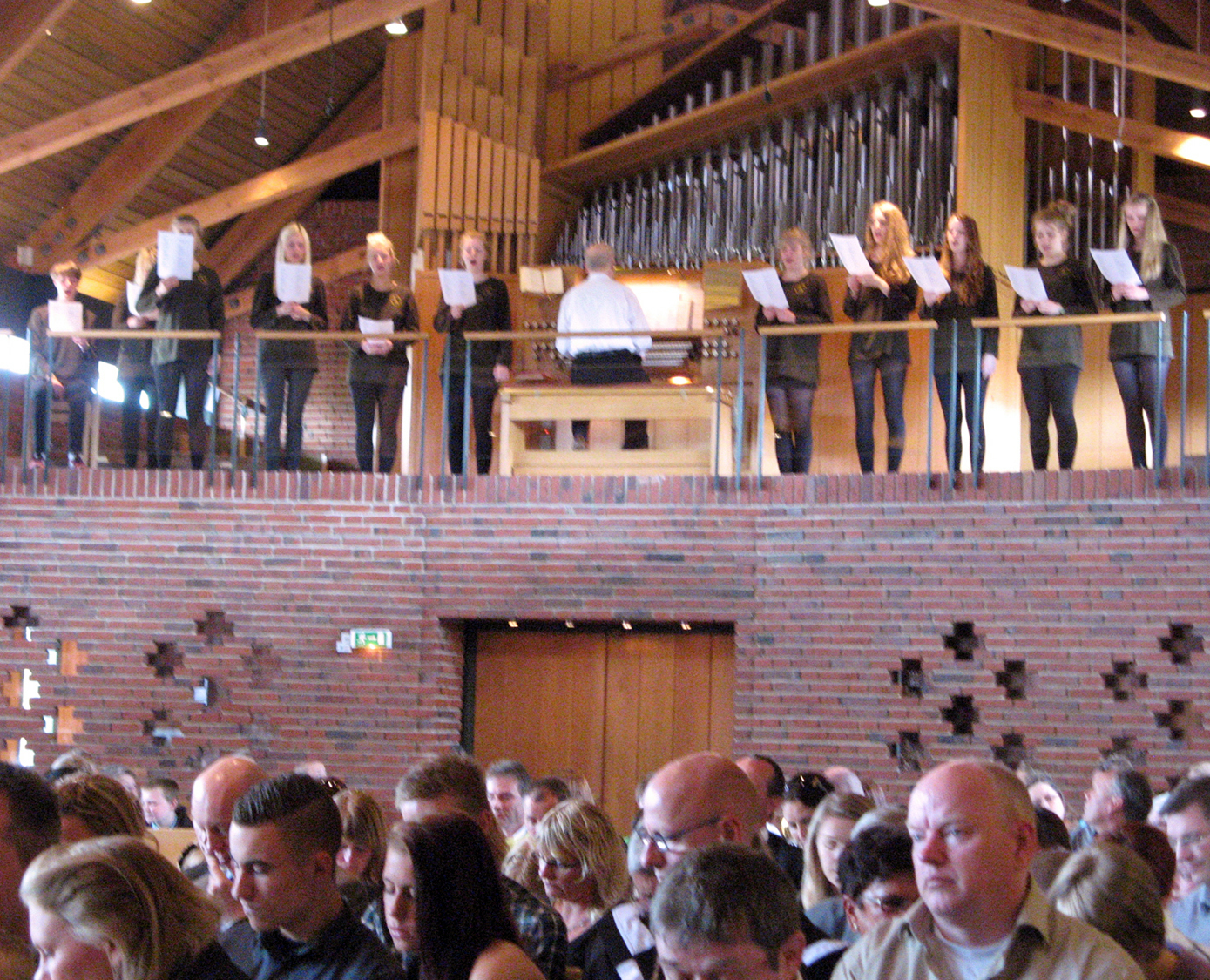 Daily Life
Hundige-Kildebronde Girl Choir is a genuine teenager choir. We sing at all confirmation services and other special services in the churches of Kildebronde and Hundige. Ordinary Sundays the Choir or a group of singers will sing at the services in the two churches. The Evensong of the 9 Lessons is a tradition, as is All Sants in November and the Chrismas, summer concerts and others.
Travels and Activities
Inspiration for this work comes among other things from participating in courses and choral festivals in Denmark and abroad, and from cooperation projects with other choirs. In later years the choir have taken part in Nordklang 2001 in Trondheim, Europa Cantat 2003 in Barcelona and in Mainz 2006, a Singing Week in Nyíregyháza 2007, Europa Cantat 2009 in Utrecht, Nordklang 2010 in Aarhus, Torino 2012 and others. Then, after a pause, 2015 Hungary again - this time in Pécs - and 2016 Gent in Belgium.
Repertoire
The repertoire consist mostly of sacred music, from gregorian chant in Latin and Danish through rennaissance and baroque to romantic and contemporary music. From serious classic music to new gospels and other songs. From unison to four parts. The choir has prémiered or taken part in prémiering works by Svend S. Schultz, Claus Vestergaard, Henrik Oedegaard, Vagn Holmboe, Morten Nyord, Erling Bjerno, Henrik Nřrfelt, Vytautas Miskinis, Henrik Colding-Jorgensen and others.
A small, hard working choir
The girls choir of Hundige-Kildebronde Parish is a small, hard working chamber choir. The choir keep a high standard musically as well as vocally, with a varied repertoire and an intensive training of voice and musicality. Choral singing is per difinition a collective art, and we appreciate a friendly and cooperative spirit. Besides the weekly rehearsal Thursday afternoon, frequently special rehearsals are held, often only for a part of the choir.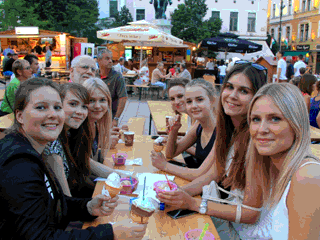 The singers
The age of the singers ranges from 12 to 19. Normally new singers are admitted once or twice a year. Before they are received in the choir itself, they go through a couple of months of intensive training.
The choir director
Since 1975 the composer, organist and licensed music teacher Henrik Colding-Jorgensen is appointed organist and choir director of Kildebronde and Hundige Churches. Through four decades he is the composer of music for orchestra, soloists and chamber ensembles, as well as vocal music for soloists with or without orchestra or instruments. Also a number of choral works, both for mixed voices and for girls choir.
Website: www.hc-j.dk
Address: Hundige-Kildebronde Girl Choir
Hundige Kirke, Eriksmindevej 20, 2670 Greve, Danmark
E-mail: girlchoir@girlchoir.dk ‑ Website: www.pigekor.dk - www.girlchoir.dk