Sunday 30 January 2011 at Kildebrønde Church 19.30
Candle Service
Theme: "LIGHT and DARKNESS"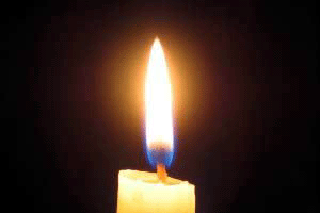 "When I think of darkness, I also think, how we hurt each other. I think about gossip and lying and bullying, adultery and people letting each other down, poor friends and divorces. I think of long nights with tears and loneliness."
"I am the light of the world", Jesus says. "He who follows me will never walk in darkness."
In the Candle Mass service a team of confirmation apprentices took part, reading their own texts of light and darkness; Kildebronde Girl Choir participated with candle procession and choral music. The vicars Rikke Marschner and Nynne Lange Reddersen were in charge of the service.
Choral works:
Kverno: Du moeder os med glaedens bud (You meet us with the word of joy)
Nystedt: Jeg er verdens lys (I am the light of the world)
Colding-Jorgensen: Halleluja, pris Herren! (Hallelujah, praise the Lord!)