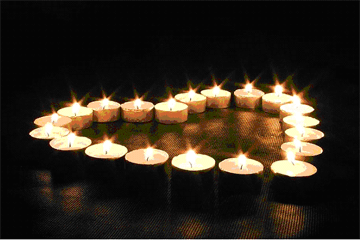 Candlemass in catholic churches is the mass, where all candles for use in the coming year are blessed. We dont do that in the National Danish Church, but we gather in the dark of the winter and celebrate the light, both within and without, with candle processions, candle lighting, drama, music, song and various readings.
Organists: Ivan Gross and Henrik Colding-Jorgensen.
Priests: Anne Bredsdorff and Nynne Lange Reddersen.
Bells ringing
Introit with procession of choir, priests and confirmants to be baptized.
Trond Kverno: Du moeder os med glaedens bud
(You meet us with tidings of joy)
Drama: The light of Hope
Common singing: Graavejr og kulde og korte dage.
Readings about light and darkness.
Kyrie de Angelis (Gregorian)
Common singing: 335, Flammerne er mange
Sermon about baptizing
Baptizing - The candles for the baptized are lighted. Speech to the witnesses.
Common singing: Gud som skabte lys i verden
Michael Bojesen: Gud lad os leve af dit ord. Choir and organ.
(God, let us live by your word)
About light. Our Father. Blessing.
Common singing: 787, Du som har taendt millioner af stjerner
Ulrich Teuber: I Herrens hus skal jeg bo. Davidssalme.
(In the house of the Lord I shall live)
Postlude