Tradition for 50 years
In Hundige-Kildebrode Parish in Greve south of Copenhagen, a girl choir was founded in 1970 in order to sing at the services in the medieval Kildebronde Church. From 1976 the choir has additionally been serving the modern Hundige Church. The parish is one of the largest in Denmark with around 18.000 inhabitants, situated in the Koege bay area at the east coast of Zealand.
Hundige-Kildebronde Girl Choir serves at all confirmation services and other festive occasions in Kildebronde and Hundige Churches. Ordinary Sundays the choir or part of it sings at the services in the two churches. The Evensong of Nine Lessons and The Eve of All Saints are fixed choir traditions in the parish, as are Christmas concerts and summer concerts among others.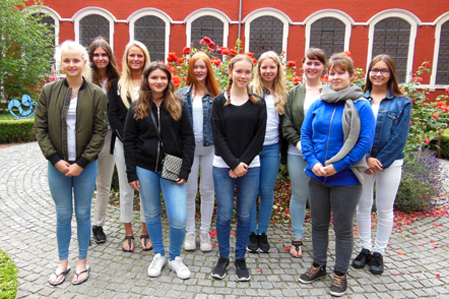 Sint-Stefanus Klooster, Ghent 2016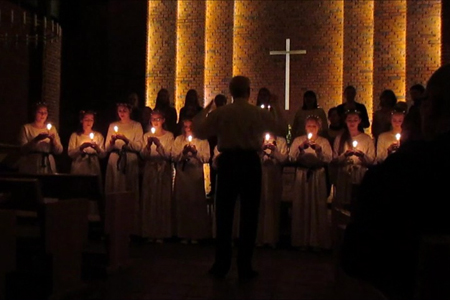 One of our rare Lucia processions. 2015
Travels and projects
The inspiration for this work is enhanced by taking part in choir festivals and courses in Denmark and abroad, and in exchange projects with other choirs. During the last few years the choir has taken part in Copen­hagen Gospel Festival 2000, Nordklang July 2001 in Trondheim, Norbusang May 2002 in Esbjerg, Europa Cantat July 2003 i Barcelona, a national youth choir festival in Herning in June 2005 and Norbusang May 2005 i Odense. In July 2006 we took part in the international Europa Cantat Festival in Mainz, Germany, in 2007 in a week in Nyíregyháza, Hungary. October 2008 in Herning, Denmark, and July 2009 in Utrecht, The Netherlands. 2010 we took part in Nordklang in Aarhus, Denmark, together with the Childrens Choir of the Royal Music Academy, and 2012 we were in Torino, Italy, to participate in Europa Cantat. Unfortunately, a festival in Norway in 2014 was cancelled, but most of the choir took part in the Europa Cantat festival in Hungary 2015, in Singing Week Flanders in Ghent, 2016, and Europa Cantat 2018 in Tallinn, Estonia.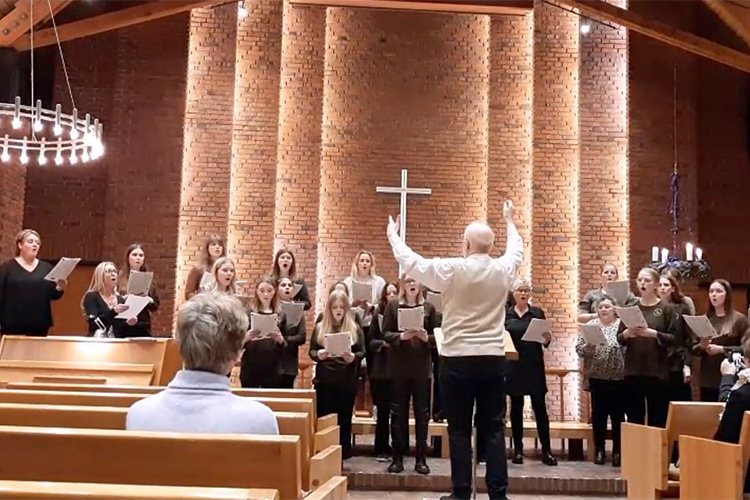 Festival conclusion in Sint-Stefanuskerk in Ghent 2016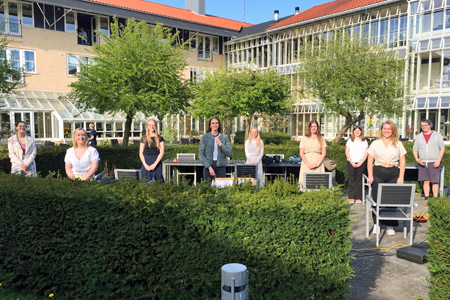 Singing for the nursing home Strandcentret
during Corona lock-down April and May 2020
A small, hard working choir
Hundige-Kildebronde Girl Choir is a small, hard working chamber choir. The choir is maintaining high standards both musically and vocally, with a repertoire of all sorts of music and an intensive training of voice and musicality. Choir singing is by definition a collective art, and we value a friendly and cooperative spirit in the choir. To the weekly rehearsal Thursday afternoon is often added one or two hours of specialized rehearsals, sometimes for only part of the choir.